My research interests focus on the use of orbital radar observations to study the geology of planetary surfaces, with a particular focus on processes related to impact cratering. Radar represents the best way to observe the surface of planets with large opaque atmospheres, such as Venus and Saturn's moon Titan, leading to a better understanding of their surface morphology. It also provides a wealth of information about the physical properties of the surface being imaged, revealing features not easily seen with optical data alone.
To pursue my interest in planetary radar, I am involved in several spacecraft missions. I was a member of the Lunar Reconnaissance Orbiter's (LRO) Mini-RF science team, and an associate member of the Cassini RADAR team, which continues to provide the highest resolution views of Titan's surface.
Download my complete CV here.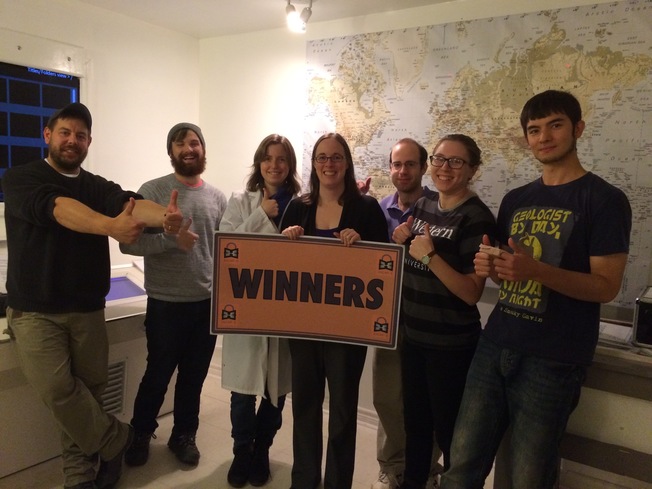 Neish Lab at Escape London (December 2016)
Education
Ph.D., Planetary Sciences, University of Arizona (Aug. 2004 - Dec. 2008)

B.Sc., Combined Honours Physics and Astronomy, University of British Columbia (Sept. 1999 - May 2004)
Work Experience
Associate Professor

Department of Earth Sciences, The University of Western Ontario (July 2021 - present)

Assistant Professor

Department of Earth Sciences, The University of Western Ontario (July 2015 - June 2021)

Assistant Professor

Department of Physics and Space Sciences, Florida Institute of Technology (August 2013 - June 2015)

NASA Postdoctoral Fellow

Goddard Space Flight Center (July 2012 - July 2013)

Postdoctoral Fellow

The Johns Hopkins University Applied Physics Laboratory (May 2009 - June 2012)
Awards
Early Researcher Award, Ontario Ministry of Research, Innovation, and Science, 2017

Minor Planet 16972 Neish, 2017

AGU Ron Greeley Award, 2014

NASA Postdoctoral Fellowship, 2012

NASA Group Achievement Award to the Lunar Reconnaissance Orbiter (LRO) Team, 2010

NSERC Postgraduate Scholarship - Doctoral, 2005-2008

Julie Payette-NSERC Research Scholarship, 2004-2005
Professional Affiliations
American Geophysical Union
Division for Planetary Science, American Astronomical Society